Best Insulated Lunch Bags
Best Quality Lunch Bags For Women
Keep your food warm and fresh with our quality reusable lunch bags for women. These lunch boxes come with thick aluminum foil that maintains the temperature of your food for up to 5 hours. They are made from durable quality and eco-friendly materials, which means they can be reused multiple times. Our lunch bags designed specially to cater to women's taste and style, making them perfect for everyday use!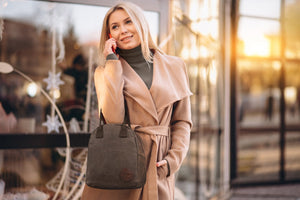 Lunch Bags for Women
LUNCH TOTE FOR WOMEN
VIEW PRODUCT
INSULATED CANVAS LUNCH BAG FOR WOMEN
VIEW PRODUCT
REUSABLE LUNCH BAGS FOR WOMEN
VIEW PRODUCT
BEST QUALITY LUNCH BAGS FOR MEN
Stop leaving your lunch behind. We've got some of the finest thermal lunch bags for men who want to bring their lunches everywhere they go. Our insulated lunch bags are specially designed with thick aluminum foil to regulate food temperatures and freshness, making them ideal for adults. Their waterproof construction, convenient carrying handles and extra pockets make these eco-friendly thermal bags perfect for everyday use.
Lunch Bags for Men
INSULATED WAXED CANVAS LUNCH BAG FOR MEN
VIEW PRODUCT
REUSABLE LUNCH BAGS FOR MEN
VIEW PRODUCT
DON'T TAKE OUR WORD FOR IT
★★★★★

This bag is bigger than it looks, I was able to fit a lot in this bag, and because of its shape I didnt have to worry about things falling over and spilling out, I love it.

Client d'Amazon

on Oct 30, 2021
★★★★★

This bag is beyond cute! It's so spacious and sturdy without being bulky and still keeping a really cute look to it. Would 100% recommend! The first and only "adult" lunch box i'll ever buy :)

John M.Desmod

on Oct 26, 2021
★★★★★

I really like the look and feel of the waxed canvas. It feel good to buy something that isn't plastic or polyester.

KJ clark2

on Oct 26, 2021
★★★★★

the lunch box itself is very durable and keeps its shape. The only minor problem I have is that sometimes the zipper gets stuck but other than that it's perfect!

kate

on Oct 07, 2021
★★★★★

Nice bag. Roomy, cute, I get lots of compliments. Only complaint is the lack of a handle. A little annoying when I'm carrying a lot of things at once.

MarDeca

on Oct 28, 2021
★★★★★

My hubby insisted on taking his lunch in a brown bag or plastic bag. "Lunch boxes are for kids, he said" But this bag he loves! Big enough to fit 3 containers plus his utensils.

Anna Johnson

on Oct 21, 2021